October 11, 2022
Our faithful readers have recently read the details of this beautiful advertising campaign signed by Dialekta, in collaboration with the Éleveurs de volailles du Québec (EVQ) for Quebec Poultry Farmers, under the theme: Having Quebec chicken on the program, it's always a good choice.
The famous magazine Media In Canada recently dedicated an article to this media campaign, which we wanted to share with you.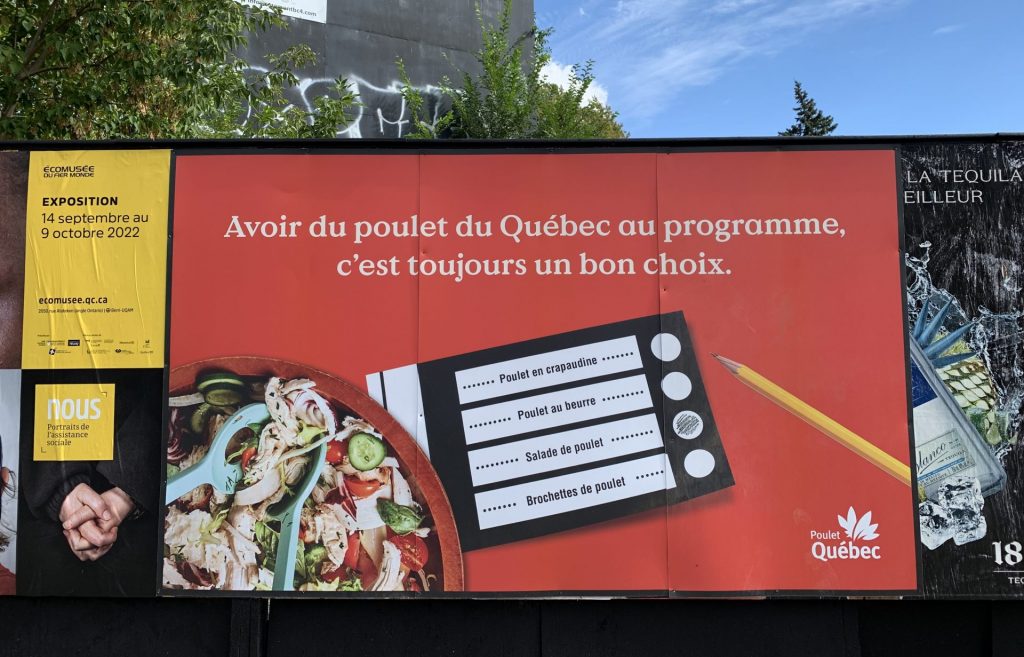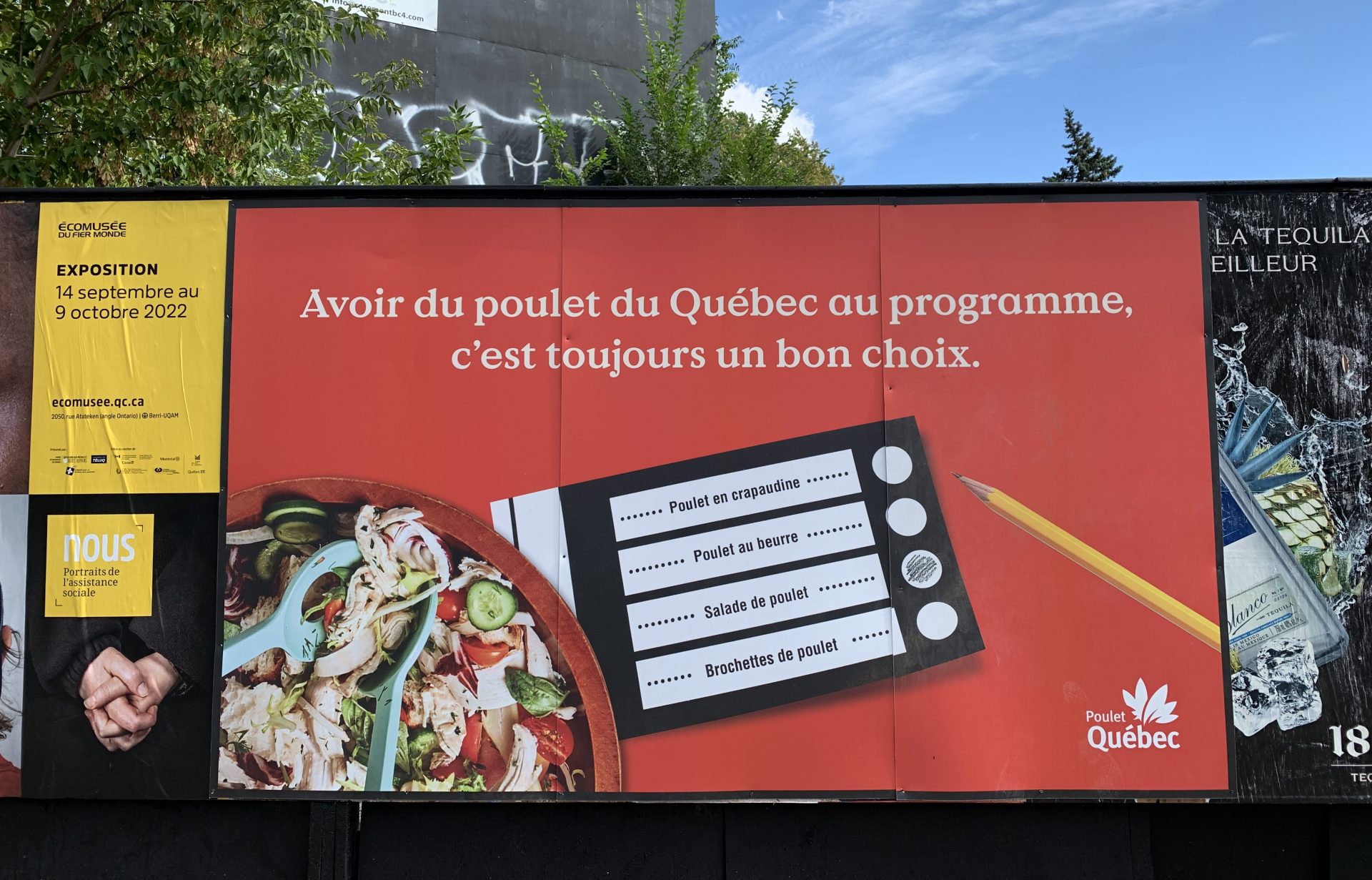 Source: https://mediaincanada.com/2022/10/07/quebec-poultry-farmers-piggybacks-on-provincial-elections-to-reach-a-wide-audience/
Quebec Poultry Farmers piggybacks on provincial elections to reach a wide audience
During the lead-up to Quebec's provincial elections, political junkies may have also noticed a campaign by Les Éleveurs de volailles du Québec (Quebec's Poultry Farmers) to increase the brand's recognition and its local identity.
The campaign, with media led by Dialekta, placed ads in various provincial and local news media (both print and digital) near political articles. It also had OOH ads made to look like signs from local candidates and timed with their release, Éliane Giasson, media strategist at Dialekta, tells MiC.
Beyond the fact that election content draws a big audience across demographics, Giasson says it aligned with the client's goals philosophically as well.
"The elections are the time to share ideas and values from Québec," she says. "We took the opportunity to highlight the local identity of Les Éleveurs de volailles du Québec at a time when people are most receptive, which is in line with our goal to inspire residents to buy local."
The print ads also presented different chicken meal choices in the form of a ballot, and were placed in La Presse, Le Journal de Montréal, Le Journal de Québec, Journal Métro and Le Devoir.
From a culinary perspective, partnerships were also formed with local recipe sites such as Trois fois par jour, Bob le Chef, À la di Stasio and VÉRO magazine that saw different ads posted on each platform.
This food-related aspect of the campaign targeted three audiences: people looking for variety in their diets, families with young children wanting to feed them healthy food and environmentally conscious consumers who love meat and make choices in accordance with their values.
For each of these sectors, a campaign was created with a message that addressed their concerns. "Messages were delivered according to their interests," says Giasson.
Furthermore, fun and light quizzes were created that asked users their preferences to direct them to the recipe section of Les Éleveurs de volailles du Québec's website. The website has thus far seen a 224% increase in visits.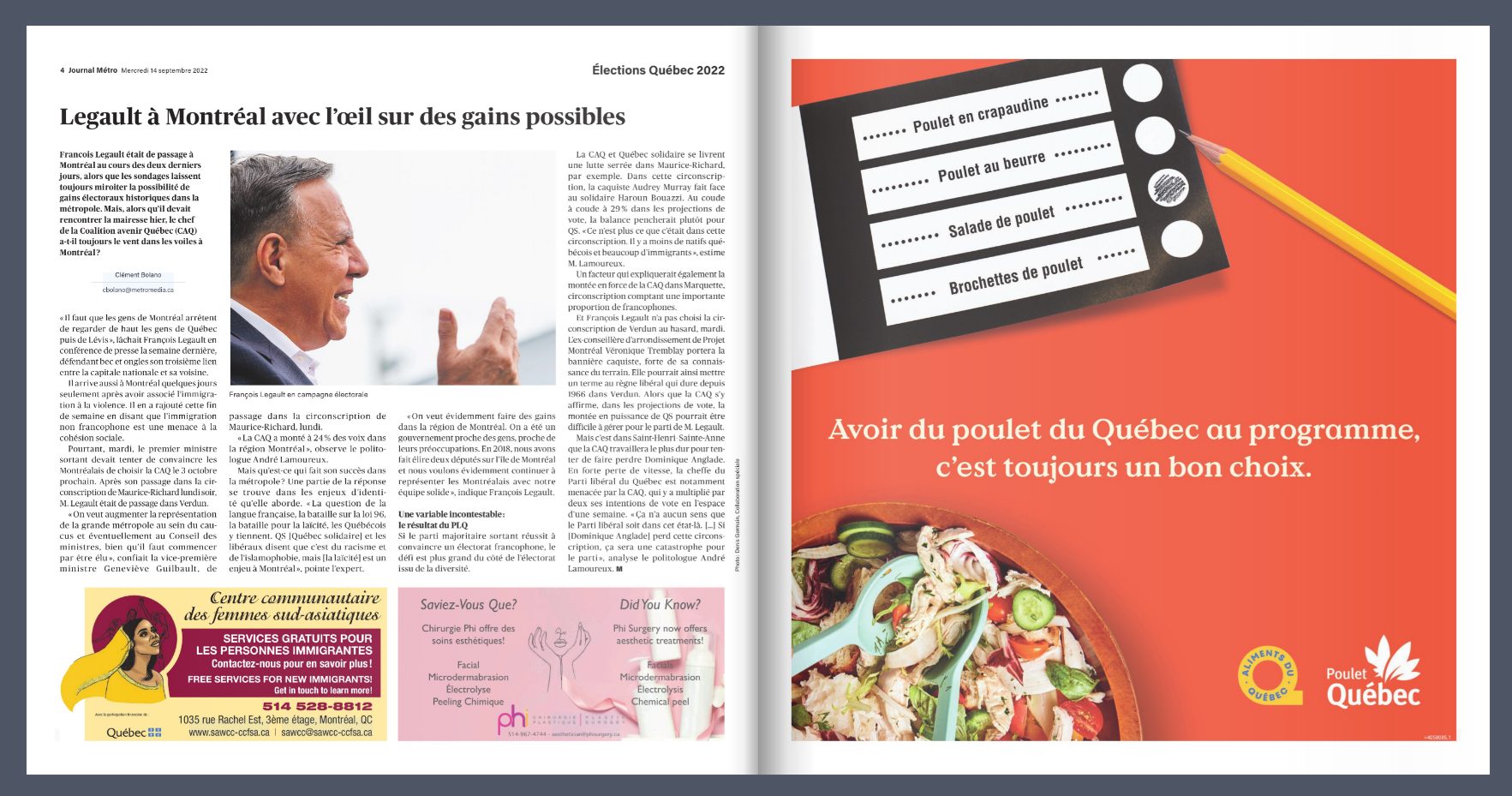 Credits:
Advertiser: Poulet du Québec (Éleveurs de volailles du Québec)
Client: Marie-Hélène Jutras
Graphic design & artistic direction: DGK (Alexandre Pépin)
Media agency: Dialekta (Anne-Sophie Collins, Éliane Giasson, Marie-Pier Haineault and Philippe Montreuil)