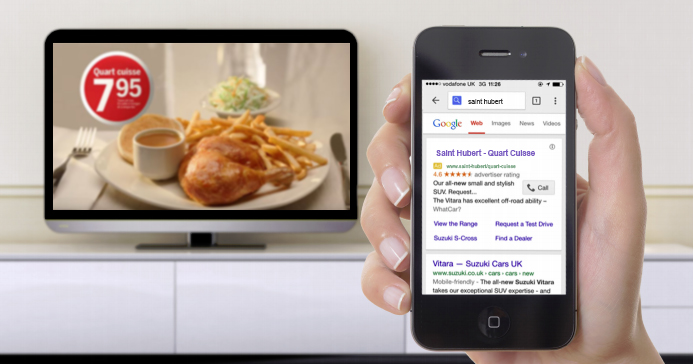 Nowadays, who is not tempted to use his phone or tablet while watching TV? Whether it's for texting, tweeting, browsing Facebook or Instagram, or finding an answer on the web, the temptation is strong. A study carried by Consumer Technology Association (CTA), 2015 Video Consumption Trends, reveals that 88% of individuals between the age of 18 and 34 (in the US) use a second screen when watching TV.
This is what we call "screen-stacking", or more commonly "second-screen".
These moments are all the more significant during ad breaks. While advertisers invest more and more $ in TV ads, catching and keeping the attention of viewers is now a real challenge for brands. The ideal solution would be to take advantage of the devices used during those moments to recapture their attention by developing strategies incorporating multi-screening.
What if TV Ad-Syncing was the solution?
TV AD-SYNCING: WHAT IS IT
Ad-syncing is the synchronization of ads broadcasted on digital devices with the ones broadcasted on TV or on the radio in real time.
This technology allows to meet your audience distracted by their mobile devices, but also to capitalize on this audience, inspired by what they are seeing on TV and looking for more information. It means taking advantage of the digital technology to meet or re-engage – with programmatic solutions – these new audiences.
HOW DOES IT WORK
Let's say someone is watching a cooking show on TV, and during the break, an ad for St-Hubert appears. Imagine then that within milliseconds of the TV ad appearing, the same or a similar ad is broadcasted to any one of the digital devices the viewer may be using at the same time. This is ad-syncing.
The first option to synchronize its digital ads with TV is – quite simply – to adjust its media plan to the moments where are broadcasted TV ads (by using ad-scheduling). Unfortunately, this technique requires a lot of time and meticulousness, not only in the setting up but also in the operationalization. Furthermore, a lot of TV spots are not reserved for a specific hour and this makes any synchronization impossible.
Fortunately, several companies have developed ACR (automated content recognition), which are able to detect and identify a TV ad exactly when it is broadcasted. Some platforms – MediaSigma – even allows pushing this information in real time towards web ad platforms in order to synchronize digital and TV ads.

HOW TO TAKE ADVANTAGE OF TV AD-SYNCING?
1. Reinforce/Intensify the message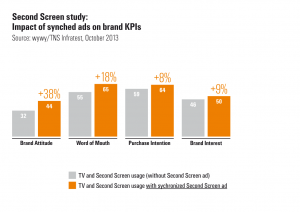 Pushing the same message on several screens at the same time can only reinforce its impact and prompt a particular resonance for the consumer. And having already an Internet access in their hand, they are only one click away from reaching the brand's website.
A study carried by wywy and TNS Infratest shows the impact of TV ad-syncing on KPIs (such as word of mouth, buying intentions or even the interest towards the brand). The results are more than promising (see the image opposite).
2. Be present when needed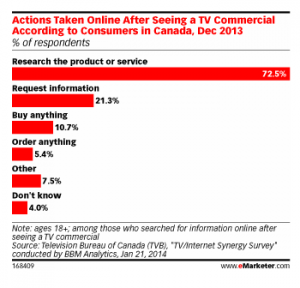 Have you ever searched for a product or service after seeing an ad on TV? If the answer is no, you're one of the few exceptions of this world.
Indeed, the Television Bureau of Canada, with its TV/Internet Synergy Survey produced in 2014, informs us that more than 72.5% of people search for a product or service after seeing the commercial on TV.
This is a great opportunity for brands to be present during those key micro-moments. This is what TV ad-syncing is all about!

3. Capitalize on the competition's investments
On the contrary, it is also possible for brands that don't have the necessary budget for a TV campaign to capitalize on their competitors' investments.
A counter-attack strategy consists then of deploying its own ads on digital platforms when competition broadcasts theirs on TV, or to dominate paid search during the following minutes.
For example, a Saint-Hubert TV ad will probably bring in searches to order some chicken. With TV synchronization, a competitor can deploy its ads on the web at the same time while increasing its bids in terms of corresponding searches and take advantage of the enthusiasm created.

4. Quantifiable results

Other than the benefits presented above, synchronization in real time allows web advertisers to easily measure and analyze the impacts of TV ads on their website metrics – which was no easy task until then. They can now optimize and test their different TV spots and improve their ROI.
In this perspective, MediaSynced published the results for three clients (TUI, Renault and Sony), which are very promising. They noticed an increase in quality visits, resulting in a better engagement rate. For Renault, they noticed a 113% increase of their CTA. For TUI, they noticed a 37% decrease in their cost per opportunity, a 54% decrease of their conversion cost, and a 47% increase in new visits.