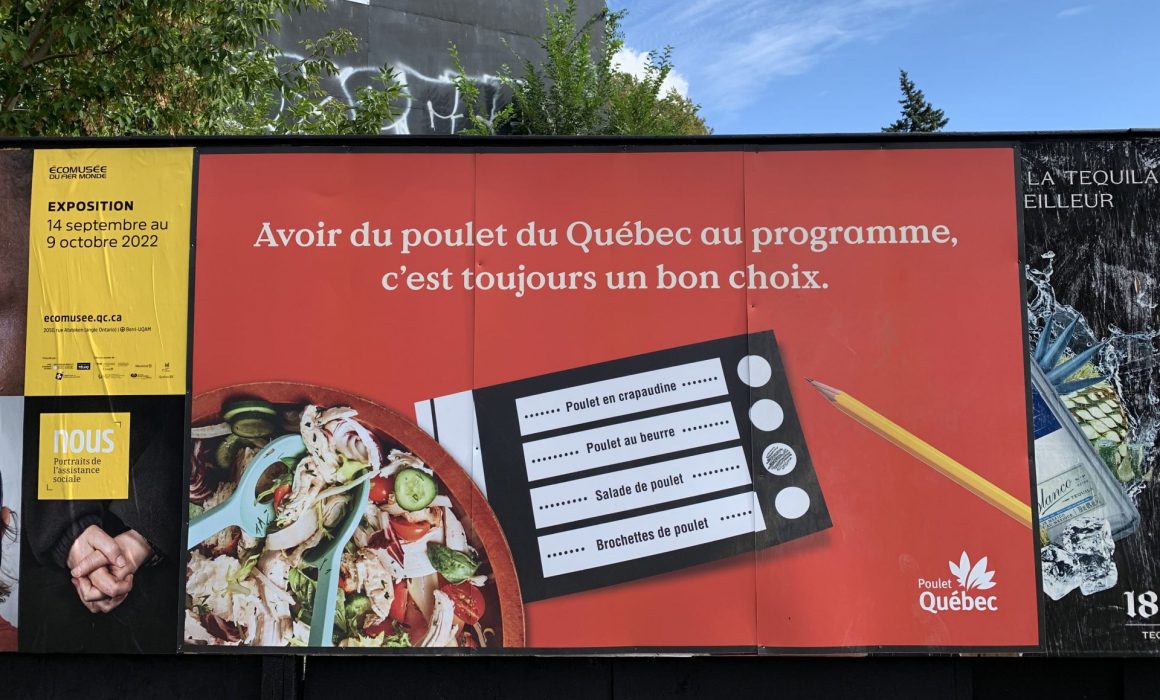 In collaboration with the media agency Dialekta, the Éleveurs de volailles du Québec (Quebec's Poultry Farmers) are launching their brand new advertising campaign for the Poulet du Québec (Quebec Chicken), under the theme: Having Quebec chicken on the program, it's always a good choice.
The notion of choice being the central theme during the current Quebec provincial election period, the Éleveurs de volailles du Québec have invited themselves into the news in a rather surprising way. Indeed, from September 12 to October 9, the organization will play around the notion of choice in a variety of commercials during a period when making a choice is of the utmost importance. These messages are to be found in various provincial and local news media such as La Presse, Le Journal de Montréal, Le Journal de Québec, Journal Métro and Le Devoir.
Moreover, to establish chicken as the protein of choice for consumers and to inspire them to put Quebec chicken in their grocery carts, the Éleveurs de volailles du Québec also chose to strategically present their campaign in a variety of culinary contexts, inspiring Quebecers during a critical time in their weekly food shopping plans. Partnerships were formed with local recipe sites such as Trois fois par jour, Bob le Chef, À la di Stasio and VÉRO magazine.
Additionally, this media offensive is being launched in the middle of September, which coincides with the National Chicken Month. This is the perfect time to celebrate the excellent chicken that the Éleveurs de volailles du Québec have been providing to Quebecers for decades. It also represents a wonderful opportunity to highlight the work of the 615 chicken farming families across the province and the 30,000 workers involved in the industry. Proud to carry out this campaign in partnership with Aliments du Québec (ADQ), the Éleveurs de volailles du Québec wish, as does their partner, to include Quebec products in the consumer's diet.
"This large-scale campaign is in line with our ambition to promote Quebec chicken as a food of choice. We would like to remind Quebecers that having Quebec chicken in their daily, evening or weekend program is not only a good choice for small and big events, but also for minimizing the environmental footprint. The Éleveurs de volailles du Québec would like to express their warmest thanks to Aliments du Québec for their support in this campaign. This partner wishes, just like us, to put Quebec products on the consumer's plate," says Marie-Hélène Jutras, Director of Communications and Marketing at Éleveurs de volailles du Québec.
"We would also like to thank the media agency Dialekta for its creativity and its strategic depth in both traditional and digital media," concludes Marie-Hélène Jutras.
The recently launched campaign will run for six weeks and will include fly posting as well as various print and digital media.
Credits:
Advertiser: Poulet du Québec (Éleveurs de volailles du Québec)
Client: Marie-Hélène Jutras
Graphic design & artistic direction: DGK (Alexandre Pépin)
Media agency: Dialekta (Anne-Sophie Collins, Éliane Giasson, Marie-Pier Haineault and Philippe Montreuil)