August 26, 2019
There's a growing buzz surrounding the use of landing pages in the digital marketing industry. But what is it exactly? Well, it's a single page that appears when a user interacts with a link, email, advertisement or page, and is meant to gather information about the user or to incite the user to accomplish a specific action.
More than 52% of enterprises are deploying landing page strategies to boost conversions and yield sustainable traffic. So what are the benefits of this tactic? We sat down with one of Dialekta's landing page experts, Matthias Clairiot, to find out all the details.
Why do most brands use landing pages?
It's to ultimately increase conversions by guiding the user to take a specific action. These actions can include asking for more information, signing up for a newsletter, getting into contact with customer service, generating a sale, etc.
Landing pages are extremely goal-oriented and differ greatly from a generic homepage where there's often a lot of information bombarding users. According to Hubspot, nearly 44% of clicks for B2B organizations are directed to the business homepage instead of a dedicated landing page. This represents a huge loss of opportunity.
Benefits of a landing page strategy
Most enterprises that deploy a well-researched landing page strategy often see an increase in conversions, which directly impacts the number of high-quality inbound leads. In the context of a Google Adwords campaign, a landing page strategy should achieve the following:
Achieve a higher AdWords Quality Score (in turn boosting your Ad Rank and your Search Impression Share, meaning your ads appear more often)
Lower your cost-per-click
Increase the conversion rate
Lower your cost-per-acquisition
Increase your revenue with the same ad spend, or reduce the ad spend to achieve the same number of conversions (leads, subscriptions, sales, etc.)
Dialekta's case
Dialekta recently worked with a client (which will remain anonymous) that struggled to increase their conversion rate, which initially hovered around 2.7%. Once our team of experts launched a landing page, the company's conversion rate immediately increased over 30 days to 4.70%.
If we look at the following table, we can see that a tiny incremental increase in the conversion rate (by 0.5%) can have a profound impact on both the cost per transaction and the revenue.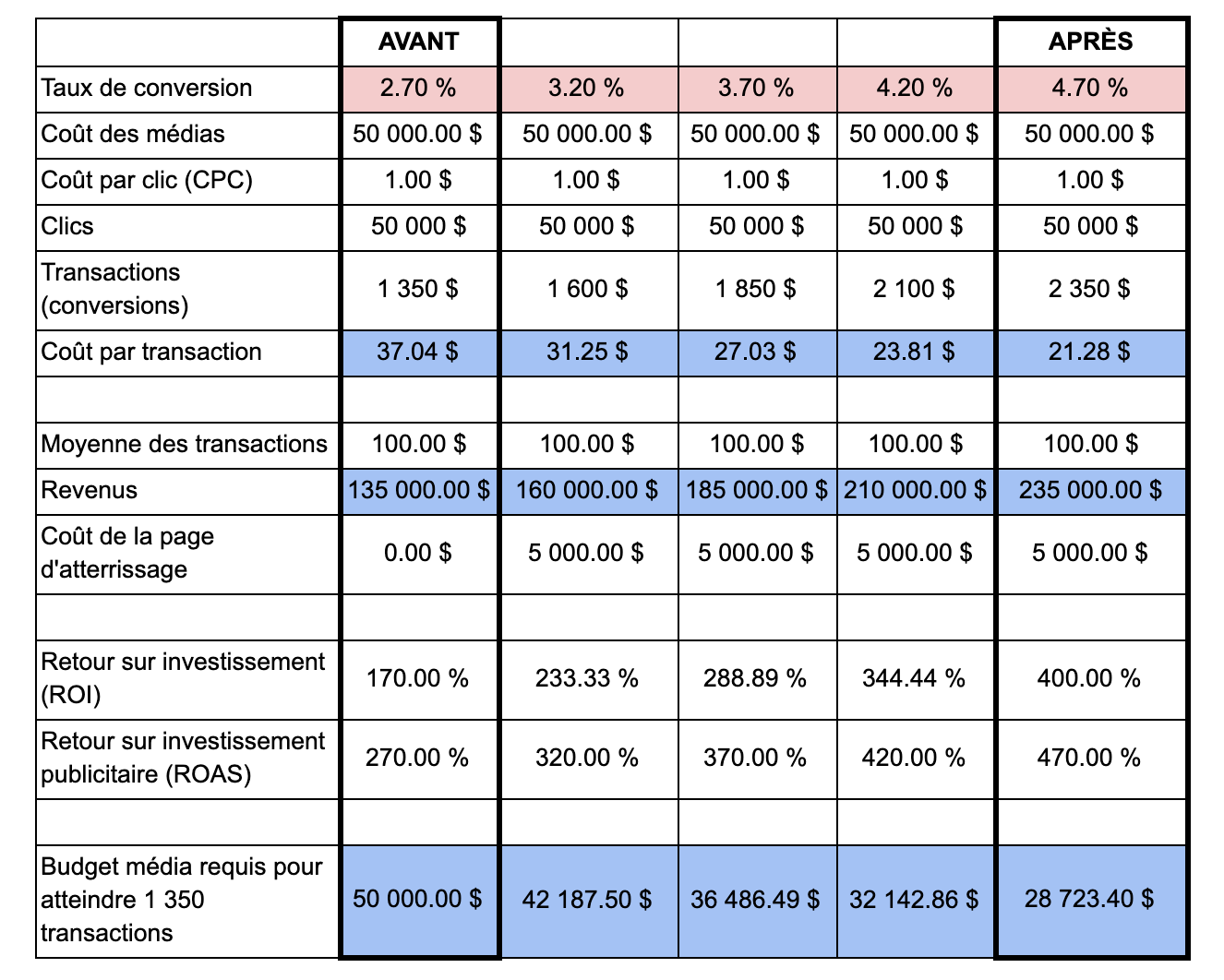 As you can see in our example, our effective landing page strategy did the following:
Reduced the cost per transaction from $37 to $21
Increased revenue from $135,000 to $235,000
ROI increased by 230%
ROAS increased by 200%
Another way to look at this major improvement is that Dialekta saved the client more than $20,000, which is a fraction of the price of a landing page. This was done while simultaneously increasing the revenue stream to achieve profitability.
Landing page A/B testing
A/B testing term is often thrown around in the digital marketing world. In the context of landing pages, A/B testing refers to multiple versions of a landing page. So if two users were to enter the same site at the same time, one might see a video while the other would see an infographic. These tactics help marketers experiment and maximize the effectiveness of a given campaign.
Often brands will test different versions over a few months to discover which landing page is the most effective and resonates with their target audience. For those just starting out, it can also be a great idea to play around with the copy to discover which drives the most conversions.
Back in 2007, Barack Obama's team used A/B testing to raise money for the presidential campaign. By testing four different buttons and six different images, the team eventually founded a successful combination. The overall results were outstanding with an additional 2.8 million email sign-ups and a surplus of $60 million in donations. The image below ended up being the winning combination.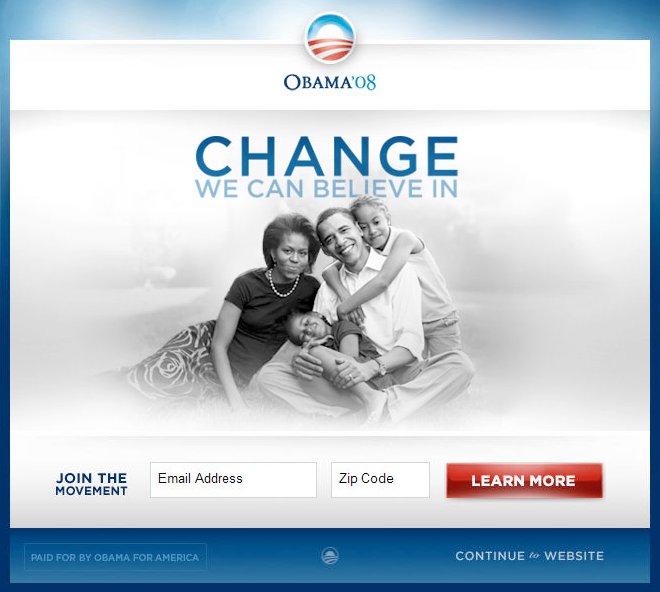 Data Collection
Another benefit of a landing page strategy is the data collection aspect. Your users are willingly providing your company with information each time they fill out a given form. In turn, you can use this data to refine your marketing strategies to create a more targeted approach to increase those conversions. With enough data on your audience, a media strategist can start to build detailed personas, which can support your paid media efforts.
You can also use a landing page to gather feedback and gain valuable insights on a product or service. For example, if you're seeing an alarming number of customers leaving your site with items in their basket, you could retarget and redirect them to a specific landing page to inquire more information about the reasons they didn't complete the transaction. Many e-commerce sites have used this method to discover there were issues with the payment method or their shipping costs.
Landing pages increase newsletter subscriptions
Brands are having to find new and innovative ways to reach their audience nowadays. A great way to retain readership and potential clients and promote your site's content is via a newsletter, and the number one tool to increase your newsletter email list is by using a landing page! You'll be able to reach prospective customers more effectively and promote your site's content.
What are you waiting for?
In reality, landing pages provide marketers and organizations with a vast number of opportunities to collect data, reach their target audience, and create effective ad campaigns. If you're thinking about implementing a landing page strategy and want to do this on your own, there are plenty of options to experiment with.
If we could give one piece of advice for DIY marketers, we strongly advise you to determine a plan of action and test certain variables over time. The important thing is to have a clear and organized strategy and dedicate an ample amount of time for continuous improvement. After all, a landing page strategy takes time but can yield tremendous results.