There's no denying that SEO is a complex and ever-changing aspect of digital marketing. It involves a number of different factors ranging from content to the usability of a website. As a result, most major search engines regularly update their algorithms meaning SEO strategists often have to pivot and tailor their strategies. For example, Google implemented 3,234 updates to their algorithm in 2018 alone according to Moz, which equates to 9 changes per day on average. While most of these changes are typically minimal, there is occasionally a major update (such as the June 2019 Core Algorithm Update) that had a wide-ranging impact
Despite these regular algorithmic changes, here are 3 effective and essential tips to bolster your SEO efforts in the long run and therefore reduce your dependency to buy keywords (SEM) on Google Adwords and Bing.
Tip #1 – Focus on high-quality and engaging content
While this tip might seem general and obvious, many organizations forget that content creation is the basis of a sustainable SEO strategy. Now how does one go about doing this? It's not about simply churning out lengthy blog posts on a regular basis, but rather doing the proper research beforehand to identify the core of your business along with the needs of your audience.
After all, Google places an importance on adequately sourced and well-written content. The search engine giant also penalizes sites in SEO rankings that produce low-quality content that's riddled with spelling mistakes and broken links.
So grab a pen and paper and write down five fundamental terms that come to mind to describe the core of your business activities. These terms will serve as the thematic pillars that'll help you select pertinent keywords related to your business and audience.
To facilitate the keyword research, you can use a number of tools (free and paid) such as Ubersuggest, Wordtracker, Moz Keyword Explorer or SEMrush. Below you'll find a screenshot of an example of our keyword research method using the Keyword Magic Tool on SEMrush. Once you have these keywords, schedule a meeting with your SEO strategist to identify which keywords pertinent to your business' needs. In most cases, the strategist will use a formula to compare the search volume with the competition in order to define the relevant keywords. You can then incorporate the keywords into your static content or future blog content, which will inevitably increase your visibility on major search engines over a period of time.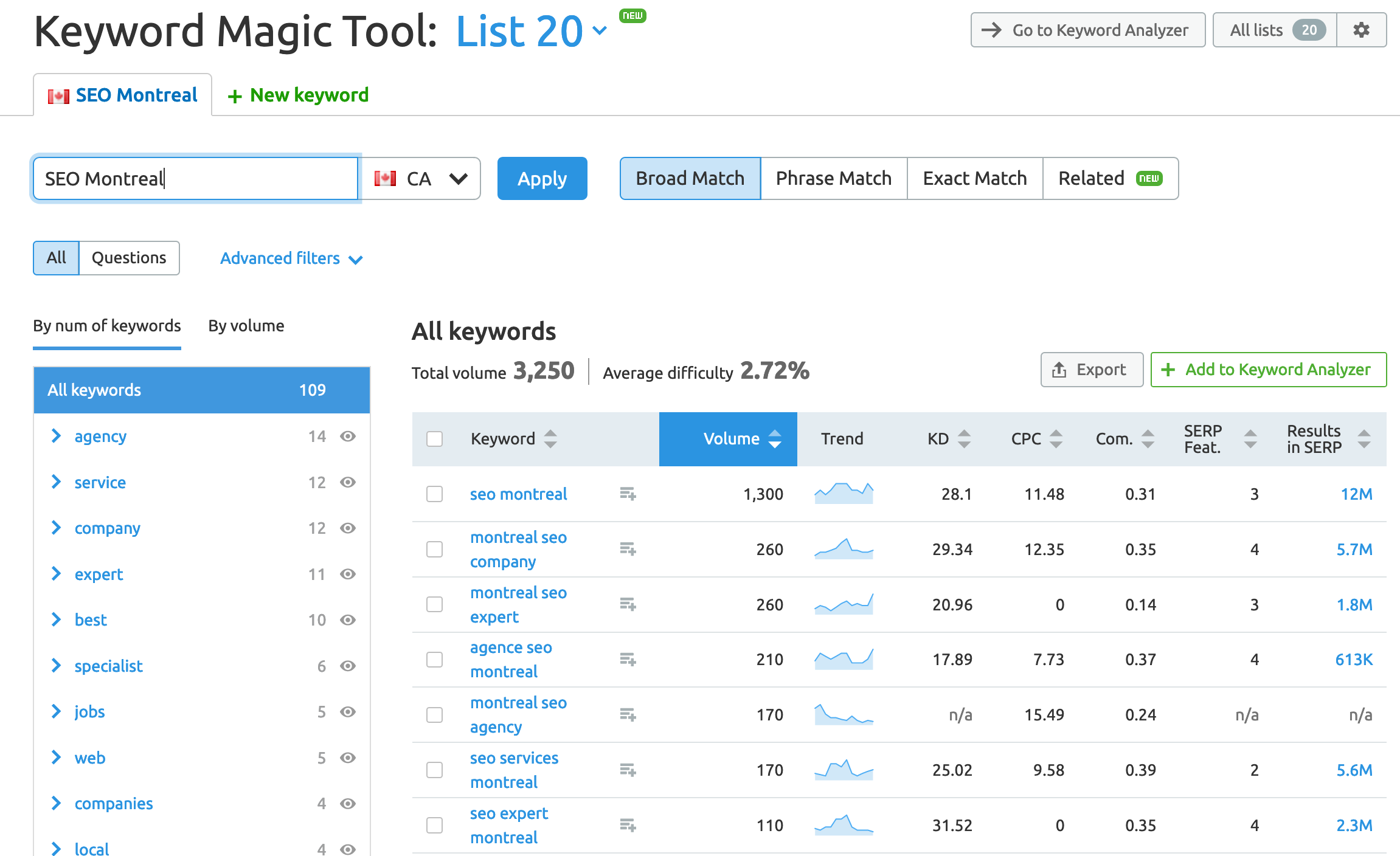 Tip #2 - Optimize for mobile devices
Switching gears and looking at the technical aspect of SEO, it's crucial that your website is optimized for mobile devices. Why is this important? Nearly 25.5 million Canadians use either a smartphone or a tablet, equating to 70% of the entire population. This figure is expected to increase to 80% within the next year, meaning more individuals are using their phones to find answers to their questions.
Moreover, in many instances, Google's robots will index the mobile version first instead of the desktop version. This phenomenon in SEO is referred to as mobile-first indexing, which demonstrates the importance of having a mobile-friendly website that'll rank higher in search results. Consequently, sites that are not designed for mobile use are penalized in terms of search engine rankings.
To check if your site is mobile-friendly, there are a number of free tools out there, including one by Google Search Console. Give it a try and check if your site is mobile-friendly in a few seconds. Simply type in your website URL and it will generate a report stating whether your page is or isn't mobile-friendly.
As an example, let's look at a brand that we all know and love – the SAQ – Quebec's sole liquor distributor. In the image above, you can see the report (generated by the aforementioned tool) that the site is not mobile friendly. Google also generates a list of recommendations, which can be interpreted and implemented with the help of an SEO expert.
It's important to note that there can be several reasons as to why Google does not consider a site to be mobile-friendly. That being said, this weakness can have a devastating impact on brands, manifesting in a drop in search engine visibility and affect the number of site visits that convert to sales.
If you discover your site is not mobile-friendly, it's best to contact your SEO strategist to help you take immediate action by recommending a series of immediate actions. A specialist will be able to help identify cornerstone issues and work in tandem with a web developer to make your site compatible for mobile devices.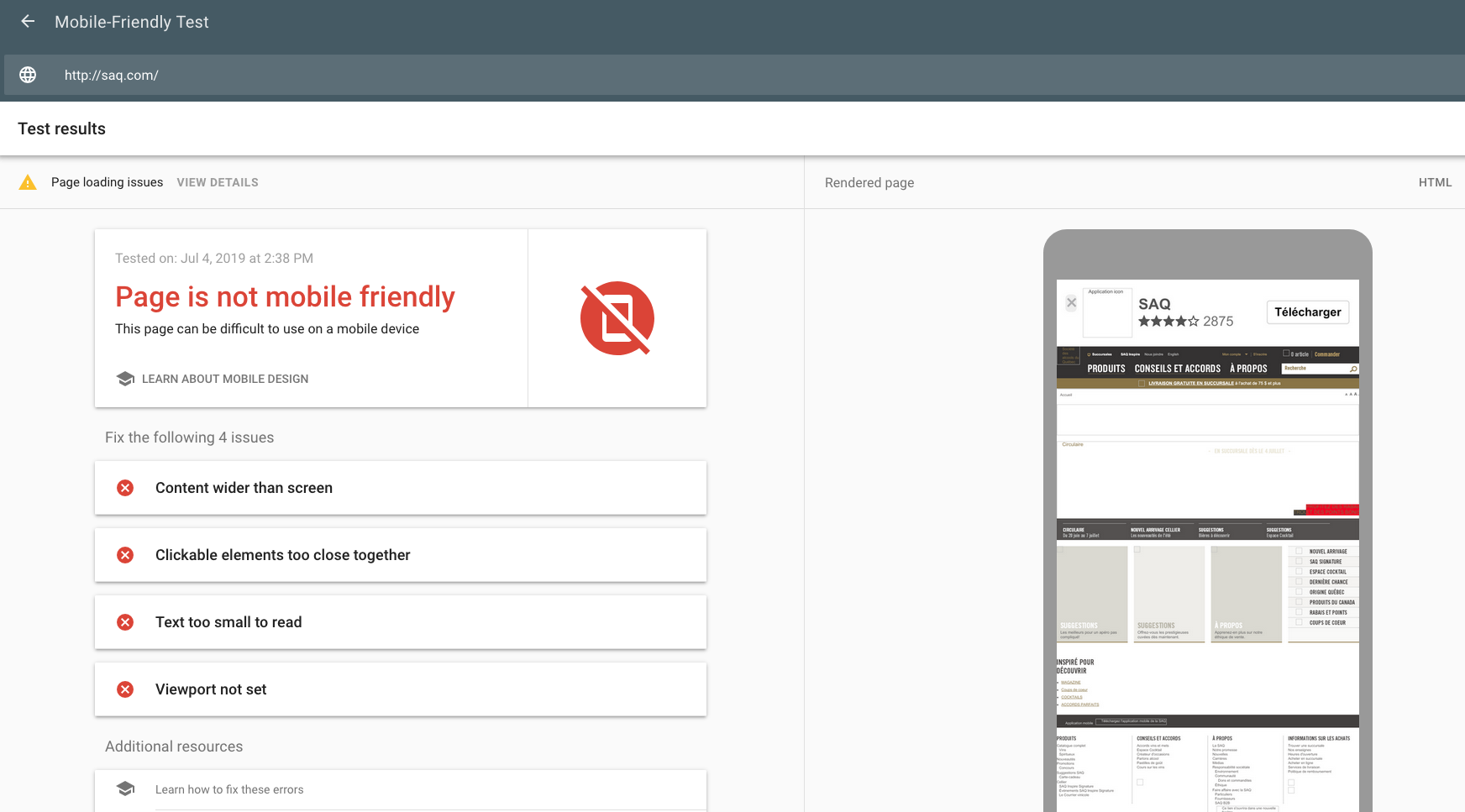 Tip #3 - Remove Irrelevant Code
Many amateur webmasters fail to realize that irrelevant code directly and negatively impacts your SEO rankings. Why? It typically takes longer for Google's bots to crawl the entire website if there's excess code, which means it won't be able to fully index your site and negatively impact your ranking. If you want to verify if your website is bogged down by excess code, you can use a free tool like FreeFormater or HTMLHint to check for the following:
Missing or unbalanced HTML tags

Missing HTML tags

Unbalanced HTML tags

Duplicate IDs

Invalid attributes

Stray characters
Once you have the results, you can either pass this information on to your web developer or try and implement some of the changes on the backend yourself. This might be difficult for those who have never worked with code before, but there are an infinite amount of YouTube tutorials and guidelines available. For webmasters who use certain platforms like Wix, Squarespace or Weebly, this may be more challenging because it's harder to modify the source code compared to a WordPress or custom CMS.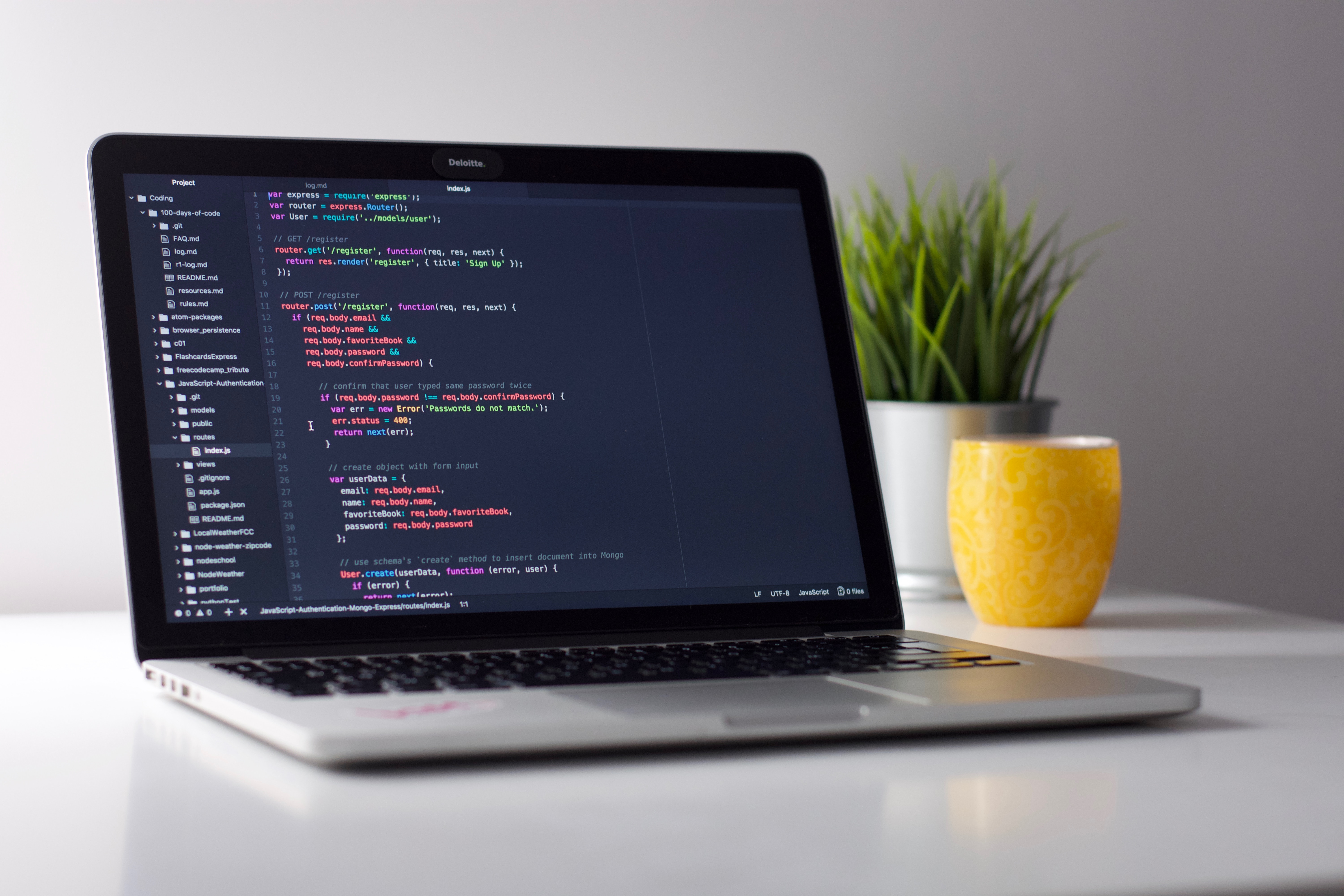 Another great tip is to be on the lookout for an unbalanced code-to-content ratio by using a free "code to text ratio checker." A higher ratio tends to be positive news, meaning your site is likely to rank well. On the other hand, if your ratio is unbalanced, you can use a tool like Minify Code to reduce bloated lines of code to aide with your SEO strategy.
In essence, these 3 foundational tips will undoubtedly help your SEO efforts. As mentioned earlier, just remember this is a long-term effort. If done correctly, you should see a direct impact on your search engine positions in regards to relevant keywords. You should also see an increase in quality traffic that can decrease your need to purchase media (SEM) via Google Adwords and Bing. If you have a particular subject you'd like our SEO team to discuss in an upcoming post, feel free to reach out to us.