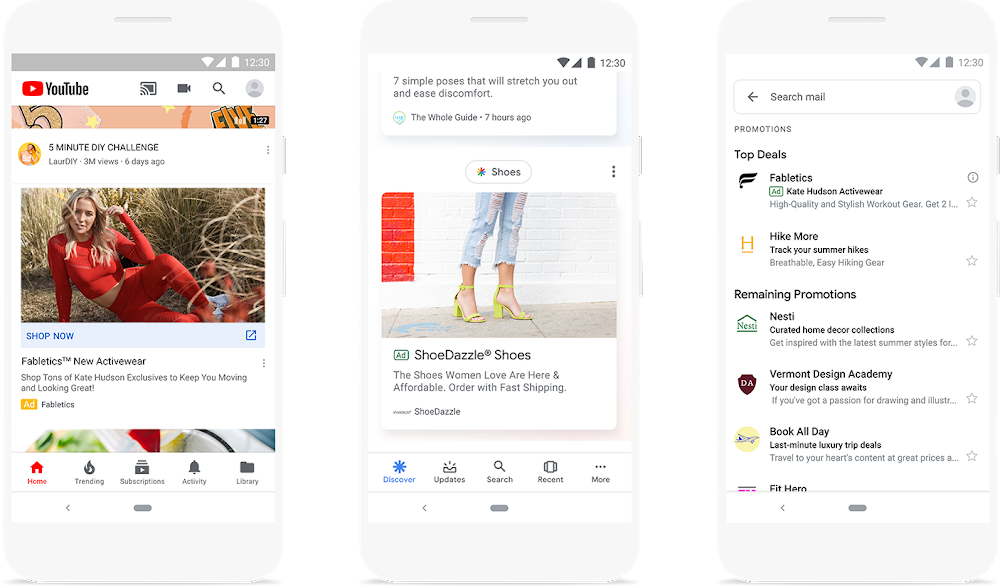 Today, more and more consumers are on the lookout for shopping ideas as they explore content online. To help advertisers deliver visual and inspiring ads to consumers ready to engage with their brands, Google created Discovery ads. This format was first launched in May 2019 in closed beta and one year later was rolled out globally to all advertisers. 
Introducing Discovery Ads
Discovery ads are visually rich native image ads that use contextual targeting instead of keywords to reach new customers. These ads can run across the Google Discover feed, YouTube Home and Watch Next feeds, and Gmail Social & Promotions tabs.
Google offers several targeting options such as affinity audiences, custom intent,  in-market, and remarketing. These targeting options are based on signals from different Google properties, users' device information, and past browser history. There are also demographic options available including age, gender, parental status, and household income.
This new type of campaign is ideal for advertisers interested in lead generation, new customer acquisition, driving sales for a subscription service or a limited set of products, and extending the reach of their remarketing campaigns. 
We Tested Discovery Ads for B2B SaaS
As an innovative digital marketing agency, we were curious to test Discovery ads and see how it could improve an account's performance. Attracted by its ability to reach customers at scale and optimize ads based on a given target CPA, we tested it out for one of our clients in the B2B SaaS industry.
What was our objective?
The campaign objective was to acquire qualified sales leads from users that have already engaged with the brand and showed an interest. We had creatives and a landing page that were created specifically for this campaign with messages tailored to the targeted audience.
Fairly quickly after the campaign launch, we noticed that the remarketing audiences were too small to capture a significant volume of traffic, which led us to test Google's audience expansion. This feature opens up additional inventory by expanding to new, relevant audiences. However, despite delivering the desired reach, this category of traffic generated only 1 conversion at a higher CPA than our target, forcing us to turn it off. 
What did we learn?
When compared to the same campaign that ran on the Display Network with responsive ads, the Discovery campaign had a better clickthrough rate (almost double) and a lower cost per click. However, the conversion rate was lower and the cost per conversion was 2.5 times higher.
Our test showed that Discovery ads can be effective if part of an omnichannel strategy, to inspire new customers and drive action. However, when launched as a remarketing only campaign, the reach can be considerably low, limiting the potential of the algorithm to learn and deliver optimal results. 
How to get started?
As with every new product, the only way to know if it performs for your brand is to test it. So, here are some guidelines on how to get started.
Use eye-catching high-resolution images 
Having the right creatives that are in line with your target audience is key to success. As recommended by Google, use both vertical (1200×628) and square formats (1200×1200). Depending on your product or service offer, you can create single-image ads or multi-image carousel ads featuring at least 5 images each.
Create one ad group per target audience
This will allow you to set different target CPA to best reach your objectives and adjust your settings based on performance. For each, make sure to use a dedicated creative. 
If you don't have significant data to establish a target CPA, we recommend starting your campaign with a Maximize Conversion bid strategy. It will optimize your campaign to help you get the most conversions within your established budget. Once you have gathered enough data, you can move to a Target CPA bidding strategy if more suitable for your business. Keep in mind that Discovery campaigns perform better with more data.
Start with your top-performing audiences
When it comes to targeting, we recommend starting with audiences that are more likely to convert for your business. To identify them, analyze the performance of your audiences from your Search, Video, and Display campaigns and pick the ones that generated the best results.
Otherwise, we would recommend starting with a mix of remarketing, similar audiences, and custom intent using your top Search keywords. According to Google, advertisers who add custom intent, customer match, remarketing, or similar audiences to their Discovery campaigns have seen 81% higher conversion rates and 25% lower CPAs.
Ensure you have sitewide tagging enabled to measure conversions after people have interacted with your ad.
Conclusion
Discovery campaigns should definitely be tested. Not only are they aimed to inspire new customers as they explore their interests, but they will also enable you to reach them across multiple Google properties. 
For help creating your first Discovery campaign, don't hesitate to reach out to our paid media experts.
By Camila Scaravelli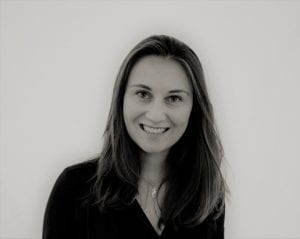 Camila has been working in digital marketing for over 6 years. Her passion, curiosity, and dedication led her to help clients from multiple industries succeed in their paid media initiatives while learning and growing with them. Driven by performance and data, she's been specializing in Search Engine Marketing since February 2020 and is a key Senior SEM Strategist at Dialekta.